Kurdistan 24 TV Live - News General Local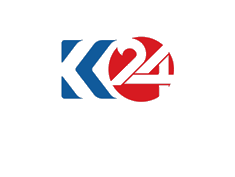 Kurdistan 24 TV Live
4.5
out of
5
based on
101137
user ratings.
×
Warning!
If you want to remove your TV channel in Kurdtvs.net, you can
contact
us to make a request.
Now you are watching Kurdistan24 TV K24 TV LivestreamK24
is a News TV channel offering free and rapid access to unbiased information. Their team of journalists and technicians at
K24
will strive for the highest possible standards. The goal of K24 is to become the benchmark for a new journalism throughout the region.
Kurdistan 24
is a Kurdish-language news and current affairs channel headquartered in Erbil (Arbil / Hewlêr), Erbil Governorate, Kurdistan Region (Iraqi Kurdistan).
Original website:
www.kurdistan24.net
Kurdistan 24 Frequencies:
Position
Satellite
Beam
EIRP (dBW)
Frequency
System
SR
FEC
Lang.
Source
52.5°E
Y1A
MENA
12054 H
DVB-S
MPEG-4
27500
5/6
Ku
N Schlammer
160728
42.0°E
Türksat 4A
East
11821 H
DVB-S
MPEG-4
HD
17000
3/4
Ku
Ü Evyapan
Serdar 22
151101
42.0°E
Türksat 4A
East
11821 H
DVB-S
MPEG-2
17000
3/4
Ku
Ü Evyapan
Serdar 22
151101
13.0°E
Eutelsat Hot Bird 13B
Wide
40-44
12322 H
DVB-S
MPEG-2
27500
3/4
Ku
A Sicsa
151203
10.0°E
Eutelsat 10A
Wide
47-48
11645 H
DVB-S2
QPSK
MPEG-4
HD
4800
2/3
Ku
Marcel 2
151112
7.3°W
Eutelsat 7 West A
MENA
48-49
11354 V
DVB-S
MPEG-4
HD
27500
5/6
Ku
Ü Evyapan
151101
7.3°W
Eutelsat 7 West A
MENA
48-49
11354 V
DVB-S
MPEG-2
27500
5/6
Ku
Ü Evyapan
151101
---